America's War on Sex: The Continuing Attack on Law, Lust, and Liberty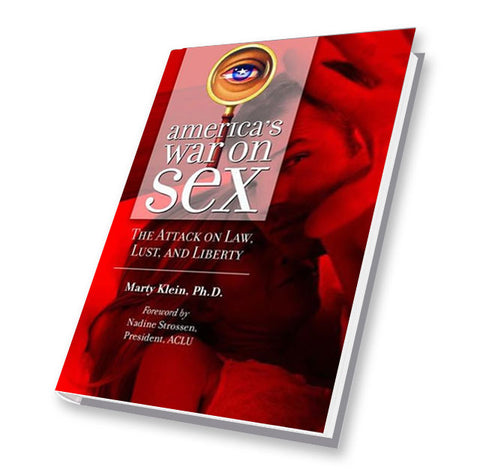 ---
Written by Dr. Marty Klein, a Certified Sex Therapist and Licensed Marriage and Family Therapist with more than three decades' experience, this book exposes how a coalition of political, religious, and civic leaders are using the issue of sex to frighten, misinform, and bully Americans—paving the way for dramatic new public policies that are already restricting everyone's rights.
Americans are more vulnerable today than ever to anxiety about sexual danger, to believing that their sexuality is not "normal" or moral, and to laws and public policies that restrict their rights, criminalize their consenting behavior, and confuse and miseducate their children. In the second edition of America's War on Sex: The Continuing Attack on Law, Lust, and Liberty, psychologist, sex therapist, and courtroom expert witness Marty Klein sets the record straight and uncovers how the "Sexual Disaster Industry" works—a powerful social and political propaganda machine that is supported by the very citizens it victimizes.

This book analyzes eight "battlegrounds" in which America's War on Sex is being fought and examines how each one is the focus of an unrelenting struggle to regulate sexuality in direct contradiction to our Constitutional guarantees, scientific fact, and the needs of average Americans. Klein places these various attacks on our rights in historical context, explains how the money and political power are coordinated from the same sources, and shows how the Religious Right inflames Americans' anxiety about sexuality even as it proposes repressive schemes to reduce that anxiety. This book tackles a sensitive and volatile topic head-on, addressing how the political, social, historical, religious, and emotional issues surrounding public policy interfaces with sexuality as no other work has before.
Highlights
Shows the connections between our increasing personal anxiety about sex and America's increasingly flawed and dangerous public policies relating to sexuality

Exposes the hypocrisy of "conservative" religious and political movements, and reveals how their claims about protecting Americans hide a different—and dangerous—agenda

Includes a powerful introduction by Nadine Strossen, beloved and longtime leader of the American Civil Liberties Union (ACLU)

Provides an entertaining and enlightening read filled with witty analysis and fearless, fact-based commentary

Includes over 400 footnotes documenting Klein's observations and descriptions

Presents relevant, timely information for both lay readers and professionals in the fields of law, medicine, social science, education, and psychology
226 pages. Hardcover