Complete Set- Steps 1–5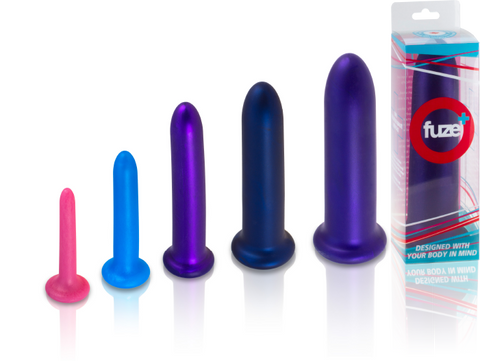 ---
Get the entire set of dilators with a $27 discount.
Dilator is not an ideal name as dilators do not actually dilate. They are simply a sequence of objects, ranging in size, that can be used for pelvic floor exercises. In the past, people have sometimes used tampons, fingers, dildos, or other household objects. Now, Fuze has developed a new collection of dilators to make your experience as pleasant and stress-free as possible. Fuze has paid careful attention to every last detail so you can relax and concentrate on yourself, not think about the equipment.
Every size of dilator is individually coloured to help identify the correct Step. FUZE+ uses only 100% Medical Grade Silicone, the finest material available. Their special formulation has the exact balance of firmness and flexibility to gently follow the natural curves of your body. Their silicone is body-safe, hypoallergenic, and safe for people with latex allergies. FUZE+ silicone is safe to use with water or oil-based lubes, but please protect it from silicone-based lubes.
The silicone is odour free, stain-resistant, and easy to clean. Simply use soap and warm water. FUZE+ dilators may be safely boiled.
Every FUZE+ dilator has our unique ergonomic handle. It sits amazingly comfortably in your hand and allows precise control of your dilator. You will notice an 18mm (roughly 11/16") hole in the handle of the Step 4 and Step 5 so you can add your favourite removable vibe. Many people find that rhythmic vibration helps to relax their muscles. Each dilator is perfectly smooth and gently tapers to a delicately sloped tip for easier insertion. Even the surface texture was specifically developed for the most relaxing and comfortable experience possible.