Family Jewels: a guide to male genital play and torment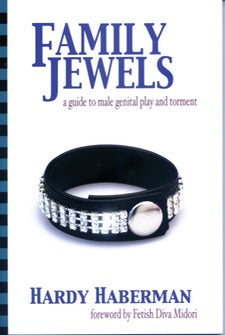 ---
Simultaneously powerful and vulnerable, the cisgender male genitals offer boundless possibilities for painful pleasures. From anatomy to psychology to descriptions of actual play scenarios, here's a wealth of information and ideas for any person who wants to offer more pleasure and intensity to the family jewels!  
"Finally, one of my favorite forms of play is getting the detailed, loving attention it deserves!  The ideas are so delicious, so outrageous, and obviously so much fun!" - Mistress Lorelei, author, The Mistress Manual
Hardy Haberman has been active in the leather community since the mid-'70s; he is a founding member of Inquisition-Dallas. Considering himself a "Pain Technologist," he specializes in CBT (cock & ball torment). Leather, his documentary on the leather lifestyle, has won numerous awards and appeared in festivals around the world. He was awarded the National Leather Association's Man of the Year award in 1999. 
Paperbook. 123  pages