Sliquid Swirl Flavored Lubricant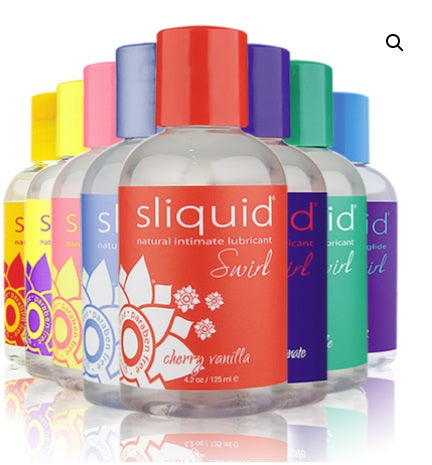 ---
A great flavoured lube from Sliquid that is glycerin-free and paraben-free. Sweet and tasty flavours combine with a long-lasting lube that's not too thick and not too sticky. Sliquid Swirl is a great flavoured lube option for those who need a lube with fewer ingredients. Sliquid Swirl is 100% vegan!
Cherry Vanilla – Cherries and vanilla essence recreate this soda fountain classic.
Green Apple Tart – Crisp and tart, just like your favourite jolly candy.
Strawberry Pomegranate – Sweet and rich, like a fresh fruit smoothie.
Blue Raspberry – An adult interpretation of the classic toaster pastry flavour.
Pina Colada – A sweet, tasty trip to the islands.
Pink Lemonade – The tangy, refreshing taste of lemon and grapefruit.
Blackberry Fig – Subtle sweetness of fig with a hint of berry taste.
Tangerine Peach – Delightfully fruity with a splash of citrus to awaken the tastebuds.
Ingredients: Purified Water, Plant Cellulose, Cyamopsis, Natural Flavoring & Aspartame, Potassium Sorbate, Citric Acid.