A Gift List for the Kinky and Hard to Buy For
My column in VUE this week is not posted on the website, so I'm posting it here so you can read it on-line - you can catch the printed version this week until Thursday.
It's gift-giving season yet again so I spent this week searching for gift ideas for all of you who are stumped for something for that special, somewhat kinky, someone who has everything. If a gift card just isn't going to make the lasting impression you're hoping for, here are a few things that definitely will.
For the gadget lover, there is the Little Rooster vibrating alarm clock. This tiny clock actually fits right into your panties. Instead of awakening to a loud obnoxious alarm, you'll feel a warm tingling between your legs. Press the snooze button and the vibration will continue just until your 9 minutes snooze is over. Somehow I'm thinking this would make you want to stay in bed rather than get up.
For the horror movie fanatic, check out the Fleshlight Freaks. This line of dildo and masturbation sleeves is inspired by our favorite horror movie creatures. There is the Zombie, with decaying flesh and open wounds. The Vampire sports a batwing vulva, or you can choose the mouth version with sexy pointed fangs. The Frankenstein models looks like they've been stitched together from many different body parts, and the Alien is blue with two heads instead of one. There is a female and male version for each monster. No, I am not making this up.
For the political junkie, why not pick up an official Barak Obama dildo? Shaped in the likeness of the president of the United States, these dildos come in your choice of presidential gold or democratic blue. You'll be pleased to know that the 'Head of State' dildo is phthalate free. And no, I'm not making this one up either.
For the hard to buy for pet, why not their very own love doll? The hot doll is a soft and sturdy dog-shaped companion for your faithful friend to hug and love and, well…you get the picture. The hot doll comes in a variety of sizes from Yorkie to Golden Retriever.
For the festive fashionista, 3 Wishes has a variety of Christmas themed lingerie. Choose from sexy snowman with hat and plaid scarf, naughty toy soldier, or raunchy reindeer complete with antler headband and jingle bell collar. Just don't go to Canada Post website for a link to the raunchy reindeer costume, they took that down months ago.
For the perfectionist, or perhaps the easily confused, Pipedreams has finally solved the pesky problem of losing your way when you're going down. The Oral Sex Light looks like a microphone headset but instead of a mic, it holds a small light so you can see what you're doing while you're down there. This one would also be great for those with Rockstar fantasies or anyone who gets turned on by the guy who demonstrates the ShamWow at the mall.
For a great gift set, why not pair the Oral Sex Light with the Oral Sex Snorkel? This little gadget, consisting of a nose plug connected to two long tubes, allows you to "breathe normally while giving her a long lustful licking she'll never forget." Sexy!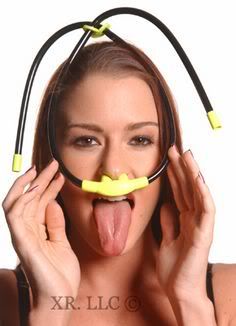 For the fantasy geek, Bad Dragon makes a range of dragon-inspired dildos. You read that right. These are artist conceptions of dragon dicks. If dragons aren't your thing, you can also get whale or dolphin penises, and even masturbation sleeves in the shape of horse vaginas. While it may sound a little out there, these toys are actually beautiful, in a disturbed sort of way, and they are all made of 100% silicone. They are definitely something the average dolphin-lover will not have in his or her collection and it's much more useful than sea world snow globe.
---
Tags: