Send Us Your Smut - The Rest Stop - by Michele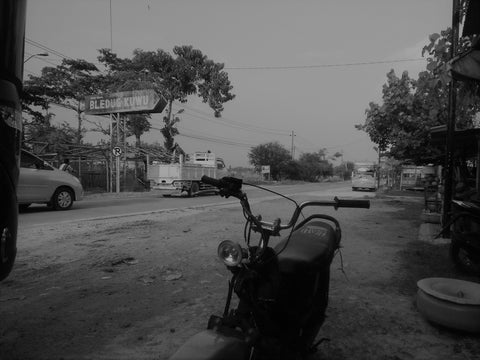 Here's another one by Michele - about finding more than you were looking for.
The Rest Stop
 
Driving down the highway , almost half way thru my day. The sun is high in the sky ,burnt blue. The wind is hot. I'm looking for a diner, or even just a rickety old gas station with an out-of-order pump. Any place where I can get something cold to drink. I haven't seen a soul for hours.  Buildings appear in the distance. I pass the first one and see crumbling plaster, broken chairs, an over turned table. Graffiti covers the walls. I see something up ahead, in front of the next building. It's a motorcycle, black, a low-rider, coated with a thin layer of dust. A well-traveled backpack is strapped on. There's a sticker on the tank that says. "This Bitch doesn't ride Bitch." I pulled in. It's the only sign of life and I'm set to find something to quench my thirst. I shut off the engine and got out. Dust rose where my boots hit the ground. I heard splashing coming from behind the building.

 
     I followed the sound around the corner and I get my first sight of you. Your head thrown back as you pour water from a canteen over your face. It trickles down your back, which is bare except for the strap of your black bra. A tattoo shows it's self above the waist of your jeans. Your ass is firm inside your black jeans and leather chaps. I clear my throat. You turn, spilling water on the ground. Your breasts push out over the top of your bra. Our eyes meet. You say nothing and turn to the old well where a bucket balances on the edge. Using a rope you lower the bucket, tipping it so it fills. I watch your muscles work as you hoist the bucket. You walk over and wordlessly set it at my feet. I scoop water with my hands, bring it to my face, with one hand, letting it run down the back of my neck. My thin tank top gets wet. My breasts show through. You can see where my nipples are pierced. You pick up the half empty bucket, put your hands under my chin and tilt my head back. You pour the water over my head, being careful to spill some so that my top is now soaked through.
 
     You walk back to the well. I come up behind you. Run my wet hands down your back. You make a noise, the slightest intake of breath. I step closer. My nipples wet and hard poking through my top. Press against your back. Your skin wakes up with goose bumps. I reach up and around to your breasts. Your nipples harden under my touch. I pinch them and your back arches. I bite your shoulder. You tilt your head. My lips wander up your neck. You grab my arm and walk towards the building. We enter through the back door, stepping around a saddlebag you have left on the floor. We still haven't spoken. Only breathing has passed our lips. You push me against the wall and pull my top up. My nipples are so hard they hurt. You make them hurt more as your teeth close around one, your fingers pulling the ring of the other. My cut offs drop to the floor. Today was too hot for underwear. You smile. Your fingers trace my lips. My hips move. I want you. I reach out for your breasts. You slap my hand away. Your fingers slip inside me. My legs move further apart. You drop to your knees. Your tongue brushes the edge of me.
 

     My lips are swollen. I move, encouraging you to go in, with your tongue, your fingers, your hand, with anything. My head is against the wall. My eyes are shut, my mouth slightly open. My teeth hold my lower lip, biting back sounds. Your tongue moves away. I look down as you stand up. My breath is audible. I am panting. I hear snaps. A zipper. I hear leather sliding against leather. I hear your footsteps. I feel your breath on my shoulder, your waist on my waist. I move my hands to your leg. I feel your chaps. My hand moves up your bare ass. I feel leather straps. I feel something hard against my thigh. I open my eyes and see. You move your hand between my legs, my lips part. I am breathing through my mouth. When you enter me, my breath escapes. We move together, your hands on my hips, my hands flat against the wall. You're watching. Looking to see how easily you're sliding in and out. You push all the way in. I gasp. You pull all the way out and then you just stand there smiling. I grab your shoulders and push you to your knees, and then onto you back. I straddle your waist. I lower myself, wrapping around you. I move slow, then faster. Riding you hard. Our eyes meet and lock. Minutes pass like hours. I fall into you, coming in waves.

 
     Slowly I stand, releasing you. I pull you to your feet. My hands move between your legs. You push me away and walk outside. I pull on my cut-offs and follow you. I see you, your head thrown back, water trickling down your back. Your ass bare, straps gone. I clear my throat. You slowly turn. I blow you a kiss in your direction. You snap your head as though it struck you. I walk around the building. I get into the van. I start the engine and pull away. I'm looking for a diner. Even just a rickety old gas station with an out-of order pump. Any place where I can get something cold to drink.
---
Tags: