The Tickle Trunk Turns 10! - Giveaway Package number 8 - Fun Factory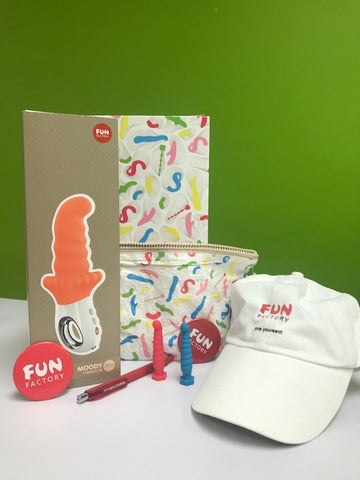 I find it hard to pick a place to start with Fun Factory because there is so much that I love about them.  The very first all silicone vibrator I ever saw was a first generation Fun Factory dolphin.  I didn't know a lot about toys yet but I knew that there was something different about this toy - it was obviously made up much better material than the toys I knew of (and sadly, was selling at the time) and it was so so so much cuter!
When I started looking into launching my own company, I was thrilled to find that a distributor I was considering carried this adorable line.  The Tickle Trunk's very first toy party list contained two Fun Factory toys.  As I grew in my company I started finding out that there is more than cute toys and good materials to this company.
In 2011, I was invited to visit the actual Fun Factory in Bremen, Germany when they put on a two day event for people who were visiting Germany for the business to business trade shows.  I can say without hyperbole that these were two of the best days of my life.  They treated us to two days of unforgettable sightseeing, food and fun, but the highlight was a tour of the Factory by Dirk Bauer himself, the owner and founder of Fun Factory.
Every single thing that goes into a Fun Factory toy, from the rubber, to the electronics, to the packaging, is made in Germany.  Dirk is a mechanical engineer and he designed many of the machines that produce the toys himself.  He treated us to an thorough explanation of how the materials are chosen, how they are mixed, how the toys are molded, and assembled, and how they are carefully checked for mistakes and flaws before they are sent out for sale.  We saw there QC department that examines every defective toy they receive back so they can determine if changes to the design and construction are needed.
We met one of their designers who explained the process of picking the look of a toy.  First, they examine the mechanics of it, the purpose of the toy and what shape, size and function it must have in order to achieve that function.  Then, they look at how they can make that shape, size and function look attractive, or fun.  They don't just create a toy that functions the way they want it to, and they don't just create a toy that looks amazing, they make sure that both of those things go together.
We also visited the beautiful display shop in Berlin where they sell only Fun Factory toys and host events for wholesale customers and for the public.  The offices and the store, and even the factory were all infused with that whimsical, cheeky attitude that makes Fun Factory so distinctive.
Yep, I know I'm gushing, but Fun Factory was my first love in toys and remains my very greatest love to this day.  
As I expected, when I asked their North American rep if they might want to contribute something for our 10th anniversary giveaway, she said yes right away.  In true Fun Factory style, she didn't just give us a toy, she gave us an awesome Moody G5 rechargeable vibrator AND a gorgeous limited edition box designed by  Karim Rashid.  In the package is also a travel toy pouch also designed by Rashid, and some great Fun Factory swag - a pen, magnet, pin, and a mini patchy paul for your desk.  All of this together is worth $215.
For your chance to win this great package, come into the store anytime from now until February 2.  Every time you visit, you'll be given an entry form.  You can decide which of our ten packages you'd like to enter to win.
---